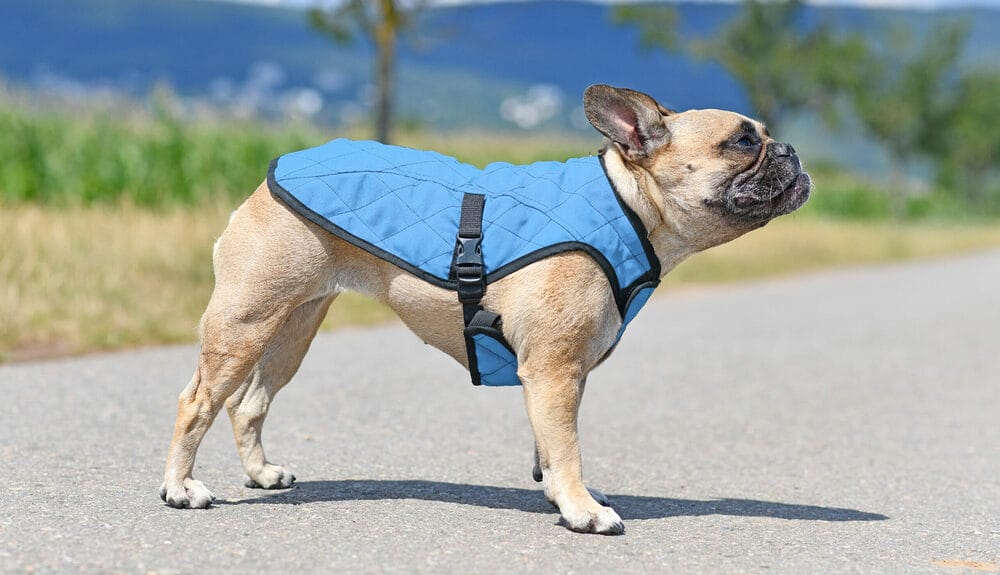 What do soldiers and dogs have in common aside from unwavering bravery? It's their need for outfits that provide protection from potential dangers, of course! 
Soldiers got their fatigues on, while canines rely on their trusty hawk vests. They're a must for every outdoor adventure, providing extra protection (and style!) for your furry friend. 
In this article, we'll hook you up on the five best dog protective gears for your pup's ultimate defense. Uncover them by reading further! 
5 best ant hawk/coyote vests for dogs
Coyotes, occasional hawk attacks, and strikes from other predators? With a hawk vest, you won't have to worry about your dog's safety because they're going to be untouchable. 
You're never going to regret purchasing one, so why not choose the spike vest that suits your pup the most? 
CoyoteVest Pet Body Armor
What we like the most: This vest is woven with aramid fibers, which are extremely durable and have high heat-resistant properties.
When it comes to being the best of the best hawk vests on the market, no doubt the CoyoteVest Pet Body Armor takes the cake. Not only does it come in several fun colors to make your pup fashionable, but its protective attributes are also top-of-the-line. 
It's made of carefully-woven aramid fabrics known for their remarkable weight-to-strength ratios. It also has extremely low flammability, making for one great dog protective gear! You won't have to worry about your pup going too close to a campfire, they won't even feel the heat. 
And of course, this anti-hawk dog vest also comes with two sets of removable chrome spikes. These spikes are made from very hard plastics, but it doesn't mean you or your dog will uncomfortable with them. They're also removable thanks to Velcro, so your dog won't have to wear them every time! 
Hawk Star Pet Protection Vest
What we like the most: This holographic vest comes with LED lights, which only adds up to its reflective properties. 
Aside from being the most budget-friendly on the list, the Hawk Star Pet Protection Vest is also the shiniest. At first, you may think this is too much, but wait until you see this predator vest in action. Forget about hawks snatching your furry friend up the sky – no birds of prey will even catch sight of them!
The Hawk Star Pet Protection Vest utilizes the science of bird vision by using highly-reflective material. Thanks to its super reflective attributes, birds won't even take the chance to go anywhere your pet. From their perspective, your Fido is a disco ball that literally screams danger. 
And have we mentioned that this iridescent dog predator vest comes with LED lights? That's right, your dog is safe even when night falls because they have the lights to brighten them up! You'll definitely see them even from afar, and they'll be extra visible for drivers on the road. 
Raptor Shield Puncture Resistant Pet Vest
What we like the most: Despite being made of lightweight materials, best believe this vest is durable and can protect your pet at crucial times. 
There's no doubt every pet owner share the same challenge: the hardship of having to put something on your dog without them scratching at it 24/7. 
Well, you won't worry about this with the Raptor Shield Puncture Resistant Pet Vest. It's the cream of the crop when it comes to being comfortable and lightweight, so you won't have any trouble making your furry friend wear it. 
And of course, your dog won't spend the rest of the day picking at this outfit due to irritation. The vest is light and airy, so there's literally no chance of Fido getting a heatstroke. Your pup will frolic through your backyard, maybe even do a rollover, while sporting this vest! 
What's more? The Raptor Shield anti-hawk vest didn't skimp out on protective properties, either! It's made of the same fabric used for bulletproof glass, so rest assured no attack can pierce through it. It truly lives up to its name, which will definitely give you peace of mind. 
CoyoteVest SpikeVest Pet Body Armor
What we like the most: This vest has added coverage on your canine's throat and stomach, which means they're protected even when in a belly-up position. 
Are you looking for a truly eco-friendly way to store your pup's poo? Then Planet Poop Home Compostable Dog Poo Bags are just what you need.
Although intentionally made as normal dog poop bags, they are perfectly fine to use as trash can liners!
Not only are they made from vegetable-based, non-GMO materials that decompose in only 90 days when placed in a composting environment, but they're also leakproof and odorless.
Plus, your purchase helps support dogs in need through Mission Pawsible in Bali, Indonesia. So go ahead and make the switch from plastic to Planet Poop for an earth-friendly option that you can feel good about.
Sheripet Hawk Deterrent with Spikes
What we like the most: Aside from having removable spike strips, this anti-hawk vest is also equipped with a reflective lining. 
If you're looking for a dog protective vest that has a little bit of everything, the Sheripet Hawk Deterrent with Spikes is meant for you. It's budget-friendly, accessible, and made of waterproof material that your dog can comfortably move around in. It also has spikes to deter attacks from dogs and other predators. 
And since these spikes are removable, the Sheripet protective dog vest can double up as a t-shirt! It even has sleeves that can keep your furry friend warm on days that are too cold, so it's quite versatile. Plus, with its zipper design, you can definitely put this vest on without any struggle. 
Added Tips on How to Protect Dogs from Hawks (And Other Predators!)
Getting your dog an anti-hawk vest may be the best way to protect them from outdoor danger, but it's still best to do added measures. After all, there's a reason why the saying "prevention is better than cure" exists, right? 
Check out some extra tips to protect your furry companion from hawks and other predators below: 
Avoid Leaving Your Fido Alone in the Outdoors
Make sure that your dog is never left unsupervised when outdoors, especially when the sun is out. Hawks and other birds of prey usually hunt during the day, which means your pet may just be their next target if they think he's unguarded. It's best to watch your canine somewhere you're fully visible to deter them. 
Sometimes, it's inevitable to stick by your canine's side every time they want to go outside. 
The solution? Build your furry friend a covered outdoor enclosure to guarantee their safety! It may be time-consuming, but it's the safest way out if your pup loves to be outdoors most of the time. 
Get Rid of Your Bird Feeders
Watching the birds every morning while you sip your coffee may be a great experience. But not enough to risk your furry companion's safety, right? That's why it's crucial that eliminate all the bird feeders scattered throughout your yard. They attract small birds and mammals, which only results in predators prowling the area. 
FAQ – Frequently Asked Questions
You may have a few questions before we wrap things up; here are some of the most frequently asked:
Hawk vests are the ultimate defense that you can provide your canine to prevent unfortunate incidents. Most of the vests are made of durable fabric, particularly those that can withstand scratches and bites. Some are even equipped with spikes that can deter birds and other predators from even coming near your furry friend. 
You're free to let your canine wear a dog vest all day, but only if they're comfortable enough with it. So long as the hawk vest is well-fitting, breathable, and lightweight, your dog won't mind sporting them all day. 
The main factors you should look for when selecting a dog hawk vest are flexibility, durability, and protective properties. Your canine should wear a well-fitting vest that brings them comfort and allows them to move freely as they wish. It's also crucial that the one you'll choose is durable and won't easily break. And of course, it should offer a high level of protection against outdoor dangers and predator attacks. 
Wrapping It Up – The Best Hawk Vest for Your Furry Friend
When it comes to keeping your canine friend safe from predators, you can never be too careful. That's why we've rounded up the best of the best hawk vests to keep them from harm's way! However, ultimately, finding the ideal dog protection vest depends on individual needs. 
Whether you reside in an area full of birds of prey or go on a hike with your pet, it's crucial to consider their well-being. Some dogs may not be comfortable with donning spikes, while others prefer to have full coverage. Whatever type of hawk vest you decide to get for your pup, make sure it fits snugly and has the right protection in place!