Dog nail trimming is perhaps one of the most stressful grooming activities for many dogs. The issue is no secret to dog supply manufacturers, which is why we see the invention of dog nail clippers, dog nail grinders, and dog nail scratchboards. 
What if dog nail clippers scare your pooch, he hates the sound of dog nail grinders, and just can't get the hang of the scratchboards? Don't worry, there is still one thing hopeless dog parents can try – dog nail files! 
Comparing the Top 5 Dog Nail Files
What we like the most: The design gives you more control compared to other nail files.
Designed for pups who dread the nail routine, this file is noise-free, keeping your dog calm and collected. The simple grip ensures pain-free use, making it easy on both you and your furry friend. Crafted from sturdy wood, it's durable and a breeze to hold.

While it takes a bit longer, the quiet process turns nail care into a chill bonding time. AnimoGoods guarantees satisfaction, so no worries – if it doesn't vibe with your pup, they've got you covered.
Bona Fide Beauty Small Dog Nail File
What we like the most: The nail filer features inner grooves for buffing and filing, while its flat side is designed to shorten the tips, effectively providing two tools in one for an affordable price.
We think most pet owners can agree that small dogs are easier to care for in terms of grooming, and this Bona Fide Beauty nail file is simple and can do the trick for tiny pooches. It doesn't come with a rubber ergonomic handle, but because it's meant for small dogs, you won't really need it.
There are inner grooves that are used for buffing and filing and the flat side of the nail filer is meant to shorten the tips. In other words, it's like getting two tools for the affordable price of one!
WSHWXY Nail File for Dogs
What we like the most: its remarkable versatility, as it not only serves as a scratchboard for dogs but also functions effectively as a nail file.
If you've read our article on dog nail scratch boards, then you would have seen this one, but it counts as a nail file too! That's how versatile the WSHWXY nail file for dogs is. If your dog just doesn't vibe with a scratchboard, then you can take the scratchboard to his nails. 
The groove allows for a firm grip while you gently scrape at the tips of your dog's nails. The surface is paved with rough grit sandpaper that's replaceable when it gets dull. Best of all is the 100% satisfaction guarantee these nail files come with. You can get a return or replacement no questions asked.
What we like the most: The best-priced dog nail file on this list!
While the WeinaBingo dog nail file may look delicate, it's actually made to be strong and is among the most durable of them all! The front side is for filing and polishing while the backside is completely shatterproof, removing the delicacy of some other nail filers.
The WeinaBingo dog nail file has an easy grip and comes with a storage box rather than a sleeve for added durability. It's essential to keep nail files clean to avoid infection, and this one is extra easy to clean. Just run it under some water and use a mild soap if necessary.
Rundik Scratch Square for Dogs with Treat Box
What we like the most: The best aspect is that this nail grinder works better for long nails than the others.
Nail grinders are essentially nail files as well, but they're just automatic. For pawrents who are looking for something more heavy-duty, we have the best nail grinder that comes with a guard. With the Casfuy nail grinder, you can choose from various colors and each one comes with 2 varying speeds to choose from depending on your dog's nail size and thickness.
The low-noise and low-vibration design definitely helps with more anxious fur babies. There are also customer service representatives always at the ready to answer your questions.
Why Use a Nail File on Your Dog?
One of the biggest reasons for using a nail file on your dog is his anxiety and fear. Many dogs are afraid of the pressure nail clippers give right before the clip, the noise and vibration from a nail grinder, or can't figure out how to use the nail scratchboard.
 A manual nail file is a great alternative to all of the above. On top of that, there are a few other benefits to using dog nail files such as:
4 Reasons to use a nail file on your dog
Types of Nail Files for Dogs
There are various types of dog nail files pawrents should get to know before choosing the right one.
Manual dog nail files resemble the ones humans use and are often made from metal, glass or materials similar to sandpaper. This type is great for smaller breeds and offers more precision and control.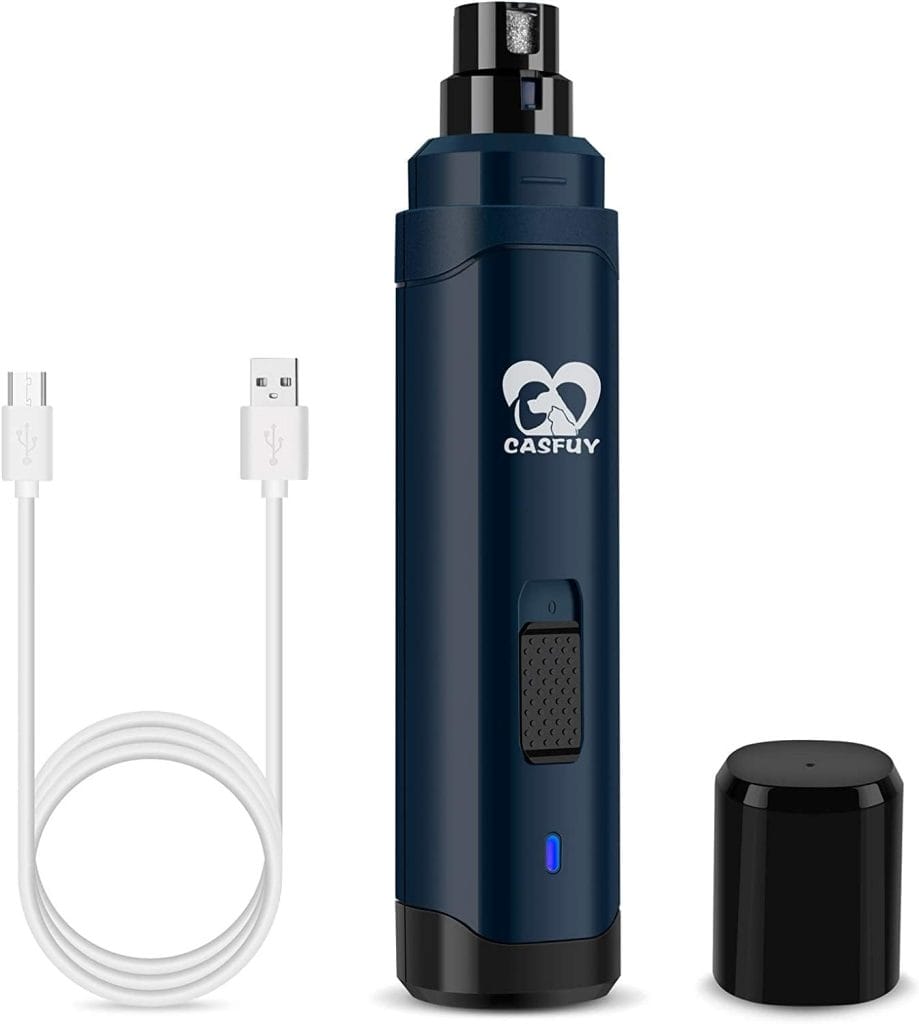 Rotary grinders, or dog nail grinders, get the job done quickly and smoothly. However, they are more suited to larger breeds or dogs with thicker nails. It'll also take time for parents and dogs to get the hang of it.
Dog nail filing boards, or scratchboards, are often the suggested alternative to dog nail clippers and grinders. They are typically a wooden board with sandpaper on one side. They are low-effort and easy to use – if your dog learns.
What to Consider When Buying a Nail File for Your Dog
Nail files for dogs aren't the best if they're your sole solution for shortening your dog's nails – especially if you have a big dog with thick nails. Small dogs can get away with using nail files for trimming, but they should generally be used for maintenance and smoothing the tips.
That being said, you should also consider the coarseness of the dog nail file. Some are created with a finer grit while others are rougher. To understand which type to pick, you should examine your dog's nails first. Remember that it could take some trial and error!
Don't settle for anything flimsy, because there is a possibility that it could bend and break during vigorous use. Dog nail files worth their salt will be diamond-coated and constructed with professional-grade materials.
Most dog nail files are pretty straightforward to use, but just to add a touch of comfort, we'd suggest looking for ones with an easy grip. There are some models that come with ergonomic rubber handles that take the stress off of your hands and wrists.
Your dog should go on a walk or spend some time outside every day, so can you imagine the stuff they get under their nails? Grooming tools should be kept clean for hygiene reasons and the well-being of your fur baby. The dog nail file you consider should be easy to clean.
The budget is a consideration for most people when purchasing anything, and the same goes for dog nail files. However, the good news is dog nail files are typically pretty affordable. Just make sure the one you pick strikes a balance between affordability and quality.
Does your dog's nail file come with replaceable parts? Does it come with extra items to keep it safe like a carrying case or sleeve? Having it come with storage options will also help keep it clean.  
How to File Your Dog's Nails?
So you've chosen the ultimate tool, but actually getting to use it on a dog who hates is another story. Don't worry, we have some tips down below to make the process easier.
Get everything together first, and try to do it subtly so your dog doesn't sense something is amiss. Get plenty of treats ready, because they're going to be your best friend during this process.
If your dog starts to get anxious, remember to keep a calm demeanor and try not to alarm him. Use soothing tones and entice your dog with treats.
The next step is to pick the right environment. Choose an area of the house that is away from all distractions or things that could set your dog off. Make sure it is also a place of peace and calm, one where your dog feels comfortable. You should also make sure the area is well-lit so you can see exactly where the quick is when you're trimming.
Introduce Your Dog to the Nail File
Just like any other item you bring into the house for your dog, introduce him to the nail file slowly. Let your dog sniff it, examine it, and make his own judgement about it (but try to sway him in a positive direction with treats). 
You don't even have to use it on the same day your dog meets the nail file. This way, he won't immediately associate the tool with one of his most hated activities. Don't be afraid to take things slowly.
Try to grasp your dog's paw gently and take the nail file to each nail and gently tap against each one. This is just to get your dog used to the file being around and on his nails. It could take some time before your dog accepts it, so patience is the key. We would also suggest not engaging in any type of filing until your dog feels okay with the tool.
Once you're confident your dog has accepted the nail file, you can begin the filing. Your dog should be calm during this time and reward him whenever he does a good job. The filing should be quick and light strokes in the same direction.
There is a good chance your dog will not stay still for all 4 paws. If your dog has had enough, it's okay to give him a break, especially in the beginning stages. It's okay to start again an hour or two later.
Once you and your dog have become pro nail filers, the next step is just to keep an eye on the nail growth and use the file to keep the nails at an appropriate length. 
Extra Tips
Keep an eye on the quick and don't file too close to it
Angle the file for a smoother finish
Use short and controlled strokes
Clean the nail file and store it away properly after each session
Are There Alternative Products for Filing Dog Nails?
Aside from manual nail files, you'd be surprised how many alternative products there are for your dog's nails. 
Electric or battery-operated, dog nail grinders are designed to grind and shorten your dog's nails gradually. They have different rotary attachments with varying coarseness and are excellent for dogs with thicker nails – typically big dogs.
However, the vibrations, sound the motor emits, and the heat it creates from friction can be scary for your dog. There is also a learning curve that presents opportunities for mistakes, which can be detrimental to the whole nail grooming process so they must be used with care.
Aside from clippers, you can also find nail scissors, which have a curved blade and are very intuitive since they work like regular scissors. What's great about these scissors is many of them can come with nail guards that can prevent you from cutting too close to the quick. 
Lastly, which we've mentioned a bunch of times are nail scratch boards or emery boards. Your dog does all the work with this tool, but the learning process is on you. They can work just as well as nail files and your dog will know when to stop so it's unlikely that he will ever injure his quick. One problem with these boards is it can be difficult to get the dew claws. 
FAQ – Frequently Asked Questions
We are coming to the end of this post, but before that – let's answer some of the most frequently asked questions related to dog nail files.
Conclusion
It doesn't matter if you opt for an automatic or manual tool, the key is finding one your dog accepts and gets the job done. Please prioritize your dog's safety, comfort, and well-being above all. 
Our best advice is to experiment with different options to figure out which one suits your dog the best. Follow our step-by-step guide to nail trimming and remember to reward your dog and be gentle and patient.