Maintaining a spic and span home is crucial not only for your health but for your pet as well. Without a robot vacuum at your disposal, many pet parents feel like they're fighting a never-ending battle with dog hair (or confetti as some like to put it), dander, drool, and dirt that come with our favorite four-legged companions.
It's tough to contend with the mess, but you'll definitely feel like someone (or something) is in your corner with one of these robot vacuums.
iRobot Roomba 692 Robot Vacuum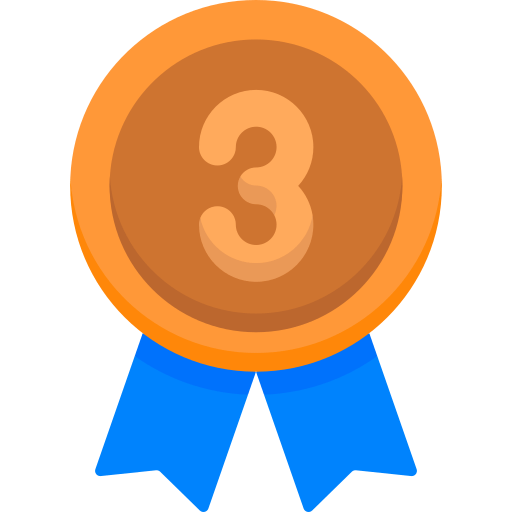 iRobot Roomba i3+ EVO (3550)
7 Best Robot Vacuums for certain categories as seen above.
Without further ado, let's dive into the top 7 products that made the cut!
iRobot Roomba 692 Robot Vacuum
What we like the most: Irobot is a well-known robot vacuum brand that has a great reputation.
Our first option is the iRobot (aptly named) Roomba 692, a feature-packed robot vacuum that works well for pet hair, carpets, and hard floors. The little robot companion is easy to use and very easy to control because it works with Alexa, Vera, and Siri, all the ladies that help you get your work done.
The body only weighs 5 pounds and helps you clean your home the smart way, by loosening dirt, lifting it up, and suctioning it in. One of the best features is the adaptive navigation that keeps the unit safe from falling down stairs and knocking into stuff.
What we like the most: With a self-emptying option, you can forget about manual emptying for up to 45-60 days.
The Shark RV1001AE IQ Robot is next on our list, and we do know the price tag is a bit hefty, but hear us out. It has a self-emptying option that allows you to set it and forget it for up to 45 or 60 days depending on the model.
It's super powerful, has a self-cleaning brush roll, and works with the SharkClean app on your phone. One of the best features is the voice command so you can literally tell it what to do. On top of that, the RV1001AE also has total home mapping and select room cleaning.
iRobot Roomba i3+ EVO (3550)
What we like the most: This self-emptying model from IRobot can go up to 60 days without your attention.
The iRobot Roomba i3+ EVO is actually our best pick for a self-emptying option. It can go up to 60 days without your attention and of course, it works with Alexa and Siri for your benefit and ease. What's great about this model is it not only cleans up after you and your pet, but it cleans up after itself as well.
The AllergenLock bags that come with the vacuum will trap pollen and mold for the duration the bag is full. You can tell the robot vacuum where to go and what places to avoid thanks to the smart navigation.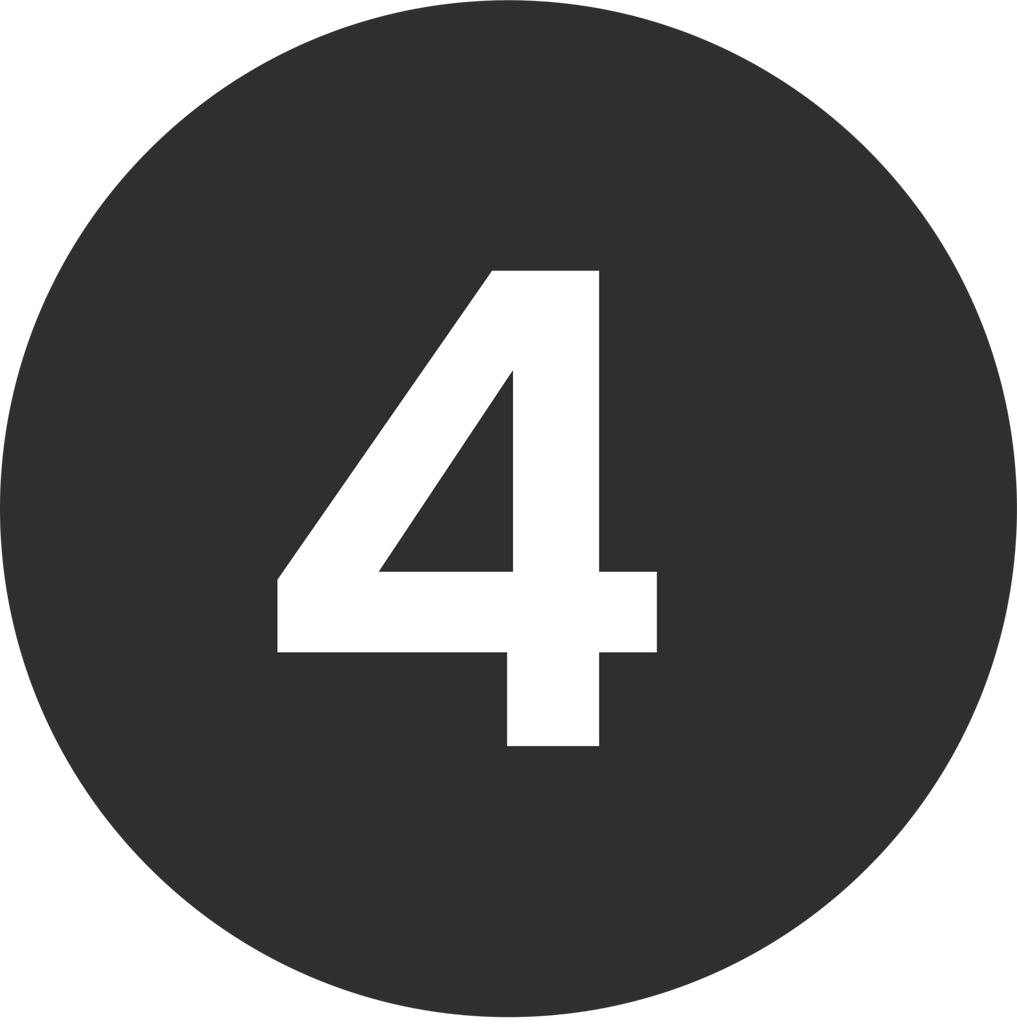 MAMNV Robot Vacuum and Mop Combo
What we like the most: The mopping is a complaint we often see with very high-end models as well, but it's always nice to have the option of both vacuuming and mopping in one unit.
There are units out there that not only take care of pet hair, dust, dander and dirt, but also mop the floors, and the MAMNV robot vacuum is it! It's a 2-in-1 unit that features both a water tank and dust bin to get the job done.
It also comes with smart app compatibility so you can create a cleaning schedule that suits your lifestyle. The robot cleaner also has advanced 3D obstacle avoidance abilities that help it navigate your space. Some of the other features include brushless suction, 4 cleaning modes, long runtime and self-charging.
eufy Clean L60 Robot Vacuum
What we like the most: Our favorite feature about the eufy Clean L60 is the strong suction that can handle anything in a single pass.
Eufy robot vacuums for pet hair are popular among many, so we had to include one with our reviews. This particular model comes with ultra-strong suction at 5,000 Pa so all the dirt, dust, dander, pet hair and crumbs, are no match for it even with just a single pass. 
What makes this the best from the brand is its A.I. mapping, BoostIQ Technology as well as its ability to climb up to 2cm that can overcome the edge of your carpets and rugs. While it can't quite climb stairs just yet, it may get there someday.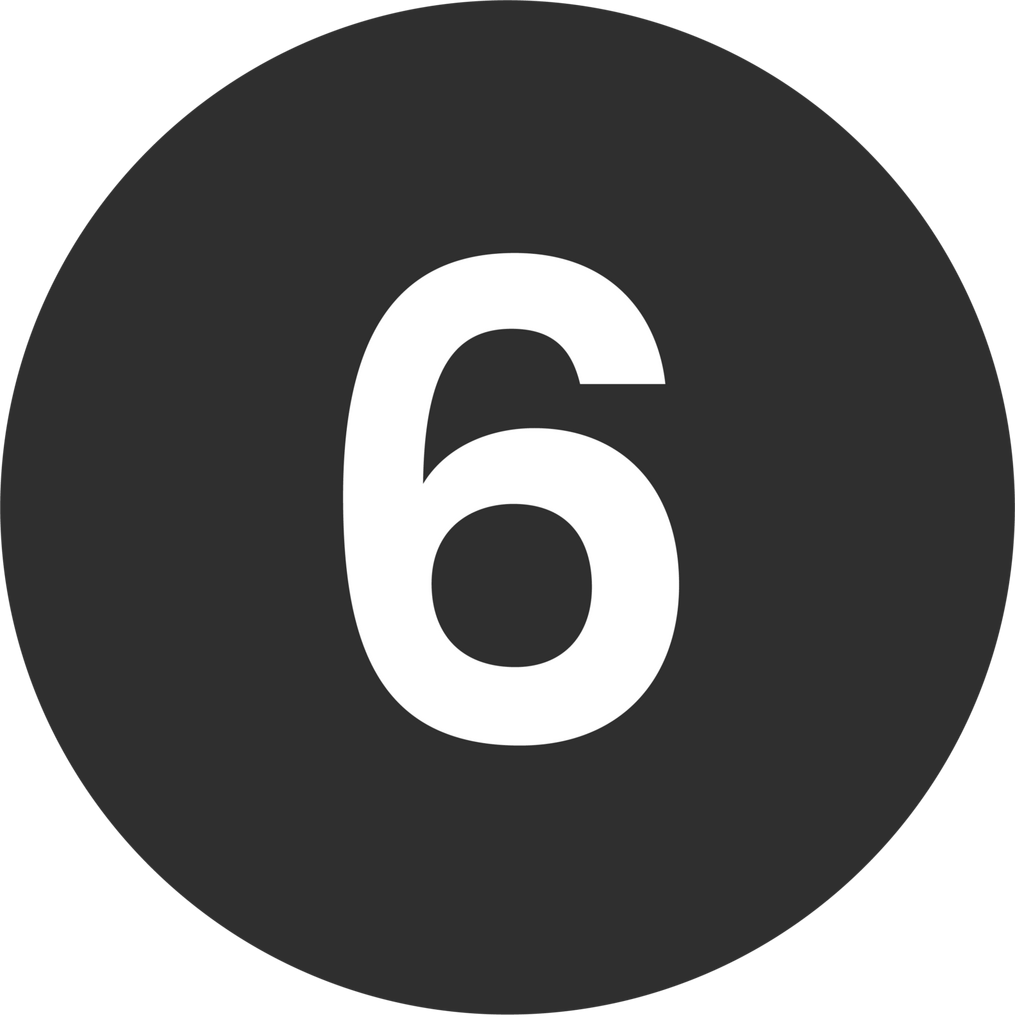 ILIFE V3s Pro Robot Vacuum Cleaner
What we like the most: The best part about the ILIFE V3s Pro robot vacuum cleaner has to be the number of features it has for the price.
It's pretty, it's affordable, and it's also one of the best options out there. The price does vary depending on the color you choose and you won't even need to break three figures for one of them.
The primary selling point of the V3s is the fact that they fit those who have pets. The unit features tangle-free pet hair suction that won't clog the machine. It also picks up plenty of debris and works on a multitude of surfaces.
AIRROBO Robot Vacuum Cleaner
What we like the most: The self-charging is always a plus because users won't have to seek out the little guy to return it to the dock.
If self-charging is the feature you care most about, then the AIRROBO vacuum cleaner is undoubtedly the best one. Your floors will be noticeably cleaner thanks to the 2,800 Pa suction that can deal with most pet hair and fine debris. 
What's really nice about the AIRROBO automatic vacuum is the scraper, which can get between tiles to make sure your floors are extra clean. It's also equipped with anti-collision features and sensors to direct it around your house like a pro. 
Why Trust Us 
There are plenty of reviews on the internet for various products, so why trust us? Well, here's why.
Unbiased Reviews
We aim to deliver unbiased reviews that come from a place of full transparency. No specific manufacturer has an influence in what we say or what we think. The opinions we provide are completely our own and based on our own research.
Thorough Research
Speaking of research, we conduct in-depth dives into each product by understanding the features and how they benefit the user. We then relay our findings as best as we can to our readers so they can make informed decisions. 
User Consideration
We put our audience at the center of every consideration. Everyone has unique needs so we try our best to review a wide range of options so you can find one that can meet your requirements. Finding one that aligns with your lifestyle is possible. 
Feedback and Reviews
We also consider the reviews and feedback of other users because the opinions of other real-world buyers could provide a deeper insight into the product. 
How to Choose the Perfect Robot Vacuum for Your House
Picking the right product on the first go can be defined as a skill. How can you sort through hundreds of products and figure out which is right for you? We have a list of factors to help you get started.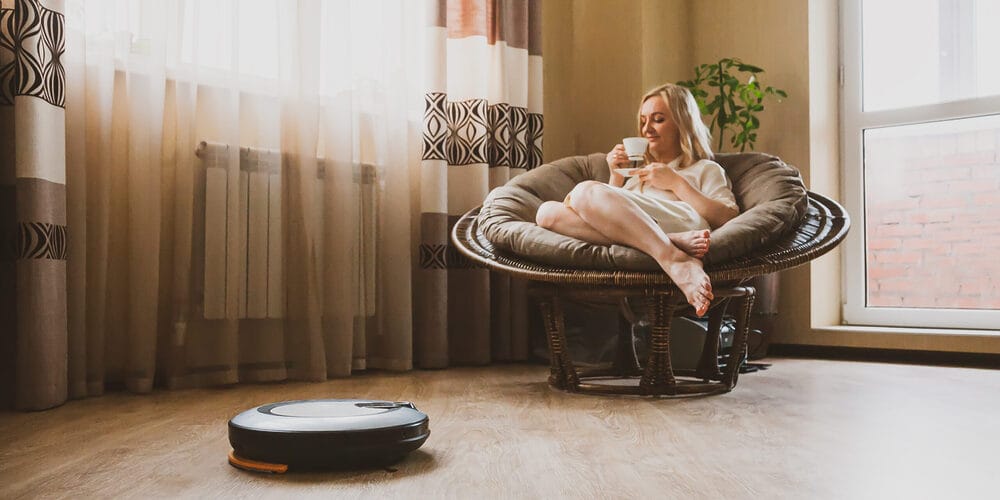 First up is your needs. Ask yourself questions about what you need the robot vacuum for, what kind of space you live in, the type of flooring you have at home, and even how large your space is. All of your answers to these questions will help you navigate the market and at least rule out a good number that doesn't suit your needs.
For example, the type of flooring you have at home will only allow you to purchase certain machines. How big your home is will have an impact on the battery life of the unit you want.
Before you start your buyer journey, it's important to give yourself a basic guideline first.
The size and design would be nice if it fits your aesthetics, but it goes beyond that. The physical dimensions of the device will impact how it performs in your space, but most robot vacuums are around the same size. However, there is a discrepancy in the thickness of the machine, that could enable it to get into those hard-to-reach places such as under your couch.
Of course, you should also think about pet-friendly settings and other features that play into the design.
Speaking of features and settings, these are the next considerations. Not all units are created equal, which is why we have a category for why we picked each one of our recommendations above. 
Imagine what your dream robot vacuum would be able to do, and set out to look for those features. Some common ones we came across are:
Room mapping
Self-charging
Virtual boundary settings
Suction and mopping
Voice control
Self-emptying
Knowing exactly what you want the device to do will help you figure out what features to look for and which ones to forgo.
How does the battery life impact your usage? Well, a pet hair robot vacuum that has a short runtime (which correlates to the battery life), will have frequent interruptions and not be able to get through a cleaning session in one go.
If you opt for a unit that has a long runtime and quick charging time, then you're looking at a device that can tackle larger spaces and complete your cleaning needs. It also won't need to find its way back to the charging dock and maximize its productivity.
All of the features and the battery life will impact the device's performance. The quality of the machine is usually better if you go with a more trusted brand with a reputation, but there are special cases.
The power aspect also impacts the performance, and also how effective the device is at dealing with pet hair, dander, dirt and debris. Look deeper into the brush types and suction power to determine what's best for your dog. You definitely want brushless suction if possible for dogs with longer coats and tons of suction power for fur babies that love to explore the outdoors.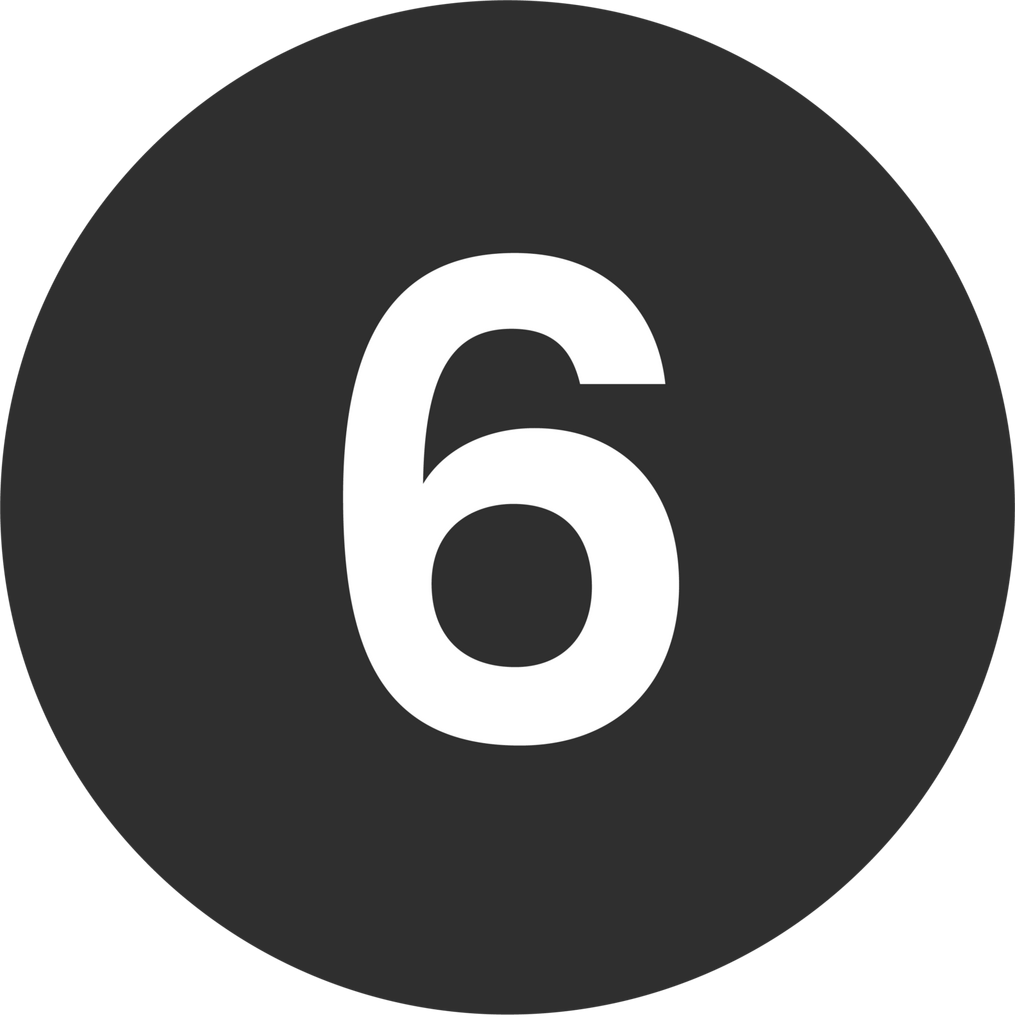 The machine cleans up after you, but it's important to remember that it also needs care. Look for a hassle-free maintenance routine like self-emptying devices that don't need to have the contents dumped out after each session.
The dustbin size will also influence the replacement frequency of the bag, and the filters you look for should be easy to replace. Does the unit require cleaning? What about replacements? You need to search for one that does the job right and minimizes your burden.
We've briefly mentioned this before, but the robot vacuum you choose for your dog's hair needs to be compatible. Aside from the suction and brush type, you need one with a hushed operation will be best, especially for anxious fur babies. 
Another example of a must-have feature is obstacle sensors. You don't want your robot vacuum to scare your pet and bump into him, you want to create a comfortable and clean environment for your pooch all the while keeping things since and tidy.
Last but not least, we have the budget consideration. It's an important aspect of every decision and the balance between quality and price is paramount. Try to find one that encompasses all of your needs and selected features without going over a certain price tag.
When in doubt, we have one that's best for your budget already in our recommended list that is feature-packed and affordable.
Benefits of Having a Robot Vacuum for Dog Hair
A robot vacuum for dog hair is a game-changer, but what exact benefits does it bring?
It gets the job done for you without you having to lift a finger essentially. There is no need for manual labor on your part, but you do have to do the initial setup and check up on it from time to time. The efficiency a robot vacuum cleaner brings can save you a lot of time for better things, such as taking your dog out on more fun adventures!
A cleaner home equals better hygiene for you and your pet. Did you know that dog hair can carry bacteria, allergens, and of course, dirt? When all of these are eliminated, you'll have a much cleaner and healthier environment. It may not seem like a big deal, but in the long run it can be, especially if you have family members who suffer from allergies and other respiratory issues.
Aside from the hygiene aspect, a cleaner environment also looks neater, more comfortable and appealing. Your home won't look unkept and messy, but spotless and inviting.
The maintenance of a robot vacuum for pet hair may seem more complicated, but it actually takes a load off of your shoulders. For example, there are plenty of units that can house the dust and debris it picks up for up to 60 days before it needs emptying. 
Many units also self-charge, which basically means they look after themselves. All you need to do is occasionally replace worn-out parts – not much different than a regular vacuum.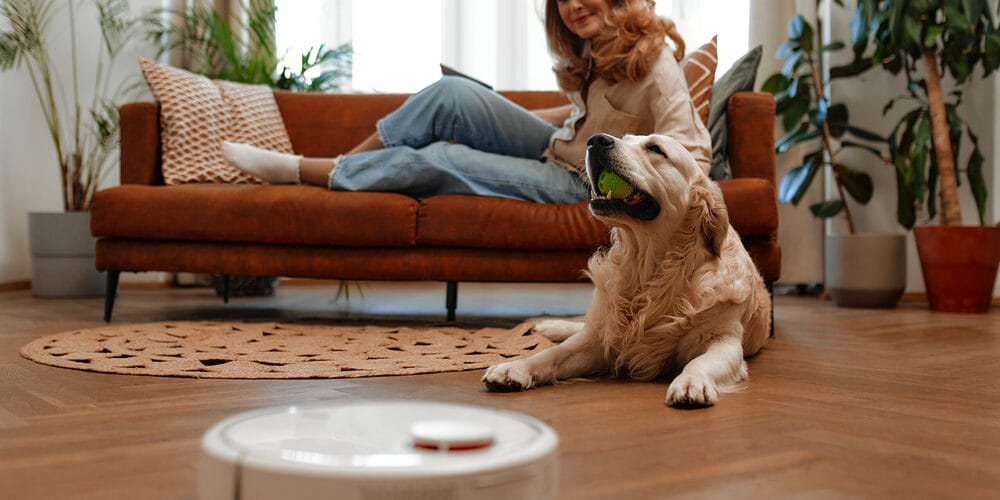 Compared to traditional vacuum cleaners, a robot vacuum is much quieter, which will not cause a disturbance and introduce more anxiety into your pet's life. Not only will it do the job well, but it will do it quietly with minimal disturbance.
Lastly, many robot vacuums meant to tackle pet hair can have pet-friendly controls. We're looking at things like extra noise reduction and also obstacle sensors that keep the machines away from your dog. Don't underestimate the benefits of these extra features, because your dog will thank you for them!
Is a Robot Vacuum Better Than a Normal Vacuum for Dog Hair?
If your dog is fine with a normal vacuum, then stick with what he knows. However, an upgrade never hurt anyone! Especially if your pet is afraid of the noise. 
Let's look at how a robot vacuum beats out a normal vacuum and vice versa.
Robot Vacuum Pros And Cons
Traditional Vacuum Pros And Cons
Tips When Using a Robot Vacuum for Dog Hair
There are a few handy tricks and tips to keep in mind when using a robot vacuum for dog hair. Follow them to optimize the use of your device.
Regular maintenance – Make sure to monitor the device's parts and keep a close eye on its performance. This way, you can best identify when something needs replacing to prolong the life of your machine.
Stick to a schedule – Sticking to a schedule is not so much for the device as it is for you and your pet. Knowing when to expect the cleaning can do wonders for your dog's adjustment period. Doing this also helps avoid accumulated buildup in your home.
Use pet-friendly mode (if applicable) – If the device comes with pet-friendly features, use them. It can help create a more favorable environment for your fur baby.
Create virtual boundaries (if applicable) – Virtual boundaries can give your pet sanctuary in the no-go zones for the robot vacuum. 
Monitor battery levels – In order to make sure everything is running smoothly, you have to keep a watchful eye on the battery levels.
FAQ – Frequently Asked Questions
We are coming to the end of this post, but before that – let's answer some of the most frequently asked questions related to robot vacuum cleaners for pet hair.
The best robot vacuum for dog hair stuck in the carpet is the iRobot Roomba 692 Robot Vacuum. It works not only on carpets but all types of flooring. It also has 3 cleaning stages to really get down to the nitty gritty that's embedded in your floors.
The best vacuum for hardwood floors is the MAMNV Robot Vacuum and Mop Combo. Not only does it have vacuuming abilities, but it can mop as well to keep your home dust-free and spotless! It's a 2-in-1 option that's affordable and utilitarian.
Final Thoughts
Integrating or replacing a traditional vacuum with a robot version is integral to your cleaning routine. Not only does it offer you convenience and efficiency, but it also gives you the gift of time! You can spend time with your family and, of course, your fur baby instead of doing chores. That sounds pretty good to us!