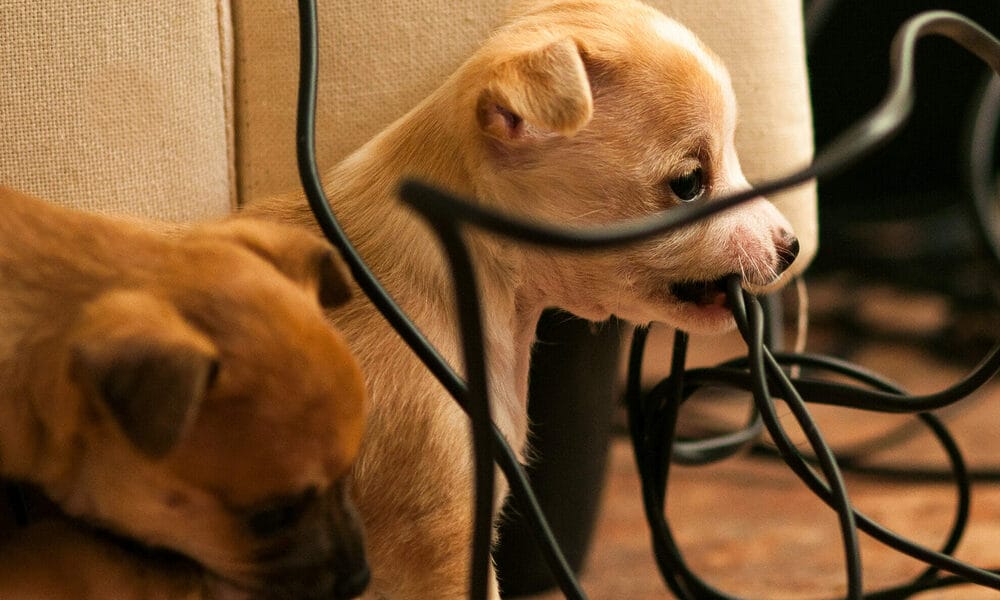 If dogs could speak, their slogan would be "Eat, Sleep, Chew, Repeat!" Even when they can't speak, their actions definitely speak louder than their words. Apart from eating, drooling, sleeping, and scratching, a dog's favorite pastime is to find the costliest piece of equipment in the house and chew it to pieces. 
No matter how full they get at lunch, they never forget to munch on the cords of your laptop, television set, or, god forbid, your ethernet cable. If the latter happens, then you're done for. A day without the internet is unimaginable and unsurvivable!
You Can't Teach An Old Dog New Tricks
No matter how much you train them or how much they love you, dogs will always choose chewing cords over everything else that you can offer them. No amount of treats can ever compare with the satisfaction that chewing on cords offers.
This does not mean you let your dog destroy all your cords on a whim. Instead of wasting money buying new chords, you can outsmart your doggo by incorporating strategies to keep your dog at bay.
How To Not Let Your Dog Chew Cords – The solution
When you decide to stand in between your dog and his chords, it's an all-out war. Make sure you are thoroughly prepared for what's coming. We bet you have tried your best to hide the cords behind, within, and below your furniture. And we know for a fact that your dog had already made it his life's mission to get his teeth on the hidden cords, come hell or high water. Thus, this strategy might work in the short term, but sadly, it isn't a sustainable one.
You can try spraying your cords with a chew-repellent liquid too. Mixing hot sauce, pepper, or lemon in water works wonders, but you will have to deal with the pain of applying it repeatedly since they keep wearing off.
Passing all your cables through the walls or hooks on the wall is also a viable option. But you wouldn't want to mess with the aesthetics of your lovely home now, would you?
Even if all your permanent cables are hidden behind the walls, what happens to the cords of daily use appliances like the washing machine, vacuum cleaner, laptop, and your phone?
Installing cord protectors for all your cables is the only way to secure victory in this war over cords. Your dog might turn grumpy for a day or two after you install them, but maybe then they will finally give more attention to their abandoned chew toys.
3 Reasons For Getting Cord Protector For Dogs
Safety Of Your Darling Pets
Electrocution due to chewing of cords causes most injuries and deaths among cat and dog pets.
Minor electrical shocks due to cord chewing are also a major cause of oral lacerations and burns that can affect deeper layers of your pet's skin. A major shock can also lead to pulmonary edema, which can also be life-threatening.
Also, if your pet develops a knack for chewing on cords, this habit might become a compulsion, and they might end up chewing and consuming something hazardous to their health and general well-being.
Save On Additional Appliance Expenses
Parts of electrical appliances, especially the cords, are hard to come by. Electrical appliance models are often upgraded, so finding exactly what you're looking for is challenging. And even if you do, you might have to pay a hefty price for it.
Every Day Turns Into A Doomsday
One day you wake up, and the TV is not working. You put the laundry in the washer, and it refuses to start. You switch on your personal computer to prepare the presentation that's due in 24 hours, and it just won't start. These nightmares can become your everyday reality with a rogue dog and unprotected cords in your home.
Avoid last-minute disappointments; it is better to be safe than sorry. Remember that prevention is always better than cure.
The best cord protectors for dogs
If you still aren't convinced to buy cord protectors, then looking at some of the best cord protectors for dogs will help you change your mind!
PetCords Dog And Cat Cord Protector
Made of high-quality materials, this cord protector for cats and dogs wraps around your electrical cables without interfering with the power outlet on the wall. If your dog is sensitive to odors, then this odorless and tasteless cord protector is the perfect product to protect your chew monster from the endless sneezing that is triggered due to strong and terrible smells.
The 14-gauge cable fits comfortably on printer cable, TV cable, kitchen appliances' cables, or any other type of exposed electrical cable. All you have to do is cut the cord protector to fit the size of the cable, find the slit, and put the wire in. The slit stays in place once you have inserted the cable.
You can order this product in variants of 10FT, 20FT, and 50FT. Thus, it is perfect for small households and your additional home office if you have one.
What makes this cord protector special: Versatile availability in 10FT, 20FT, and 20FT variants.
Cacovedo Dog And Cat Cord Protector
This plastic cord protector by Cacovedo will take your dog's fierce jaws for a run. A strong and durable build ensures that your dog regrets chewing on the cable altogether, never to return again. The material can withstand temperature in between ranges -40F to 200F, making it an ideal choice for regions that experience extreme heat and cold, which also make it an ideal protection against electrical fires.
This 30 ft long cord protector with a ½ inch diameter is easy to install and cut according to the size of the wire. All you have to do is find the slit, separate it, and insert the wire. The slit remains tightly closed once the wire is put in place.
Special Characteristic: The product withstands extreme heat and cold in the ranges of -40°F to 200°F.
CrocSee Braided Cable Management Protector
The CrocSee cord protector is made from super durable and flexible polyethylene, which you can wrap around your wires effortlessly. The split design is such that it can hold multiple wires at the same time. The self-adhesive property of this cord protector enables you to add more wires later. The braided design ensures that not even the sharpest teeth or most robust jaws get to your cable.
The material build offers resistance to abrasion and heat up to a temperature of 302°F and can protect your cables in the harshest conditions.
The best part about the product is that it is available in lengths of 10 ft and 25 ft with variants of ¼, ½, and ¾ inch diameter to choose from.
Special Characteristic: Offers heat resistance up to 302°F.
FUNZON Dog And Cat Protector
The FUNZON cord protector is made of durable and flexible heavy-duty polypropylene, which provides improved insulation against physical wear and tear, protection from oils, and corrosion resistance. 
The cord protectors come in five 6.5 ft long pieces, which are red, white, blue, yellow, and black. Its spiral design allows inserting multiple wires into a single sleeve without tangling them into each other.
Special Characteristic: The product has a unique spiral design and multiple color options.
GearIT Nylon Cord Protector For Dogs
The GearIT cord protector is an excellent alternative for those looking for cord protectors made of something other than polyethylene and polypropylene. It comes with a split loom design that makes it super easy to load multiple wires. It is highly resistant to wear and tear and high temperatures and is insulated with PET material. 
This cord protector does a great job at hiding cables behind computer desks and on the walls behind the television set. The only drawback with nylon cord protectors is that they come in a single length of 25ft and have to be cut with a hot knife or sear the edges with the flame of a lighter.
An added advantage of this product is the variety it offers with diameters of ⅛, ¼, ½, ¾, ⅜, and 1-inch diameters.
Special Characteristic: Offers a wide range of diameters to choose from.
Conclusion – Victory for the cables
Over a century ago, a writer named Emmert Wolf wrote, "A man is only as good as his tools ."Well, in the 21st century, where our pets rule over our lives, a pet parent is only as great as his accessories. And a cord protector is an accessory that you cannot compromise on.
Cord protectors save your pet from terrible injuries and make them lose their appetite for chewing cables. They save you a fortune for a fraction of the price and offer the unprecedented peace of mind that every dog parent deserves. We hope that you can see our sentiment and logic behind why you should purchase cord protectors and pick any of the above that you liked the most.
Happy Parenting!