If you're looking for the perfect way to show off your pup's style and personality, there is no better choice than a beaded dog collar. Beaded collars can be fashionable and fun while standing up to wear-and-tear during all sorts of everyday adventures.
From walking around the block or getting ready for a special event, these eye-catching pieces add individuality to your four-legged friend. Whether in vibrant colors or more subtle hues, we found five of the best beaded dog collars that will have your pup turning heads on their next outing!
Scamper & Co Genuine Leather collar
Treat your pup to the little luxuries they deserve with Scamper &Co's Genuine Leather Beaded Dog Collar. Made from high-quality materials and adorned with stunning beading, this collar is a showstopper that is sure to turn heads wherever you go.
With its adjustable design, it will always stay snugly in place too – making it ideal for special occasions or just when wanting to add an extra touch of personality into their everyday look!
The Beaded dog collars come in three colors: navy, black, and white. They also come in two sizes: small (fits neck from 8.5" – 11") and extra small (fits neck from 10.5"-13.5").
What Makes This Beaded Dog Collar Stand Out?
Scamper & Co's beaded dog collars provide your pup with a comfortable and chic look. Crafted from genuine white leather, these collars are both strong enough to last and soft or delicate skinned pooches.
To add that additional touch of luxury and shine, 18k yellow gold plated pyramid studs and cubic zirconia accents adorn each collar for an extra sparkle effect. And don't worry about the fit – their bronze buckle hardware secures the comfortability of Fido so you can rest easy knowing your fashionable four-legged friend is stylishly safe!
Summary
Pamper your pup with the ultimate collar – Scamper & Co's genuine leather collars are stylish, resilient and built to last. Not only will Fido look great in one of these superior collars but also feel safe and secure. Secure a high-quality accessory for your furry friend today!
Challenger Beaded Padded Leather Dog Collar
Challenger's exquisite beaded leather dog collars are handcrafted from premium full grain leather and are exceptionally durable, offering optimal comfort for your pup.
The eye-catching decorative beading provides a stylish edge to this adjustable collar which comes in sizes XS, S, M or Large; perfect for finding the ideal fit for any size of canine.
Whether you're looking for an everyday luxury item or something special occasion worthy, Challenger's Beaded Leather Collar is sure to please both you and your four legged friend!
What Makes This Beaded Dog Collar Different?
Not only is this beaded dog collar stylish and durable, but also comfortable! Crafted with genuine full-grain leather in a variety of colors to choose from, this beautiful design features an eye-catching pattern inlay made of colorful beads.
The rustproof stainless steel hardware ensures your pup's safety while adding that extra touch of elegance. With the unique look and feel only offered by our collars, you can rest assured knowing your pet will be both safe and stylishly dressed at all times!
Summary
Treat your pup to the ultimate in comfort and style with the Challenger Beaded Padded Leather Dog Collar. This luxurious collar is crafted from full grain leather for an elegant look, as well as being padded for added coziness.
With stainless steel hardware that's rust free, your furry friend will be kept safe while looking their absolute best! So don't hesitate – get yours today and give your pooch a unique accessory that you can both appreciate!
Moots Root Hand-Knitted Leather Pet Collar
With all the different styles of dogs in this world, there's a perfect collar for every personality! Moots hand-knitted leather pet collars come with colorful embroidery and detailed decorations that will make your furry friend stand out. 
They're also comfortable enough so they can wear it walking around on their own or while running errands – no more tight fitting outfits here!
They come in 3 different colors, blue, pink and red!
What makes Moots beaded dog collar different?
Moots beaded dog collars are different from other collars on the market because they are made with artisanal nylon threading, 100% polyester mixed with reclaimed leather, and feature a safe buckle and ring. 
The company is also proud to say that they credit and properly remunerate the indigenous communities that design and decorate their collars. 
Moots beaded dog collars are handmade in Mexico and are suitable for all life stages.
Summary
Your dog deserves the best, and that's why you should buy them a great collar.
Not only are Moots collars stylish and comfortable, but they also help support indigenous communities in Mexico.
Moots collars come in a variety of colors to match your pet's personality, and they are made with high-quality materials that will last for years.
Purchase a Moots collar today on Amazon!
Western Dog Collar - Aztec Beaded
The Western Dog Collar – Aztec Beaded is a beautiful and unique handcrafted beaded dog collar. It is made of real 100% leather and is topped off with a sturdy brass metal buckle.
This unisex design is appropriate for all dogs of all breeds. The beading on this collar is stunning and makes a statement. This is a thicker, strong collar that dogs can't chew through. It is also adjustable to ensure a comfortable fit for your dog.
This collar is an all-around great option for any dog owner looking for a stylish and durable collar.
What makes the western dog collar so special?
The western dog collar is so special because it's made of 100% real leather and handcrafted with sturdy brass metal buckle. It can't be pulled out by the dogs; instead, they're securely fastened into place!
The unisex design makes this product appealing for both males as well females who want something beautiful without compromising functionality or quality–and there are many sizes available including L 15″ – 19″.
What do people say?
From 27 reviews, the rating is 3.8/5. Overal, people think the colar looks great but some are experiencing problems with the quality.
Take as example the review from AShley Ann, she said "Nice but not"
"It was nice for a while but wore out fast."
Prorider Dog Collar Cow Leather
For the discerning dog owner, nothing is more important than finding the perfect collar for their furry friend. And when it comes to style and quality, the Prorider Dog Collar Cow Leather is in a class all its own. 
This beaded dog collar is made from full grain naturally tanned genuine leather, making it both stylish and durable. The superior quality craftsmanship is evident in every detail, from the built-in small ring next to the buckle to the stylish beading. 
Whether you're looking for a collar that will make a fashion statement or one that will stand up to rough play, the Prorider Dog Collar Cow Leather is sure to please.
The collar is available in xs, s, m, l and even xl. They are all seperately listed on Amazon so you have to do your research.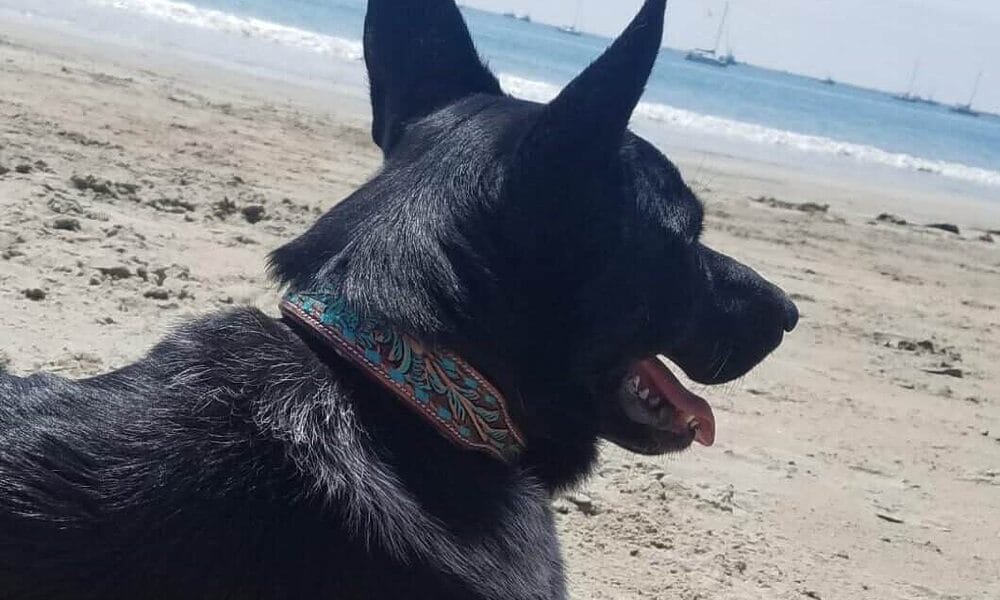 What makes the Prorider Dog Collar different?
The Prorider Dog Collar is made with full grain naturally tanned genuine leather. It features an innovative design that allows it to fit small dogs, brown/teal in color and includes a built-in tag holdaer which makes this product perfect for any size pet!
Summary
Are you looking for a new collar for your dog?
The Prorider Dog Collar is made with full grain, naturally tanned genuine leather. It's built in small ring next to the buckle for Tags and features superior quality.
You won't find a better quality or more stylish collar than this one. The natural tanning process gives the leather a unique and beautiful color that will last. Your dog will love wearing this comfortable and fashionable collar.
Purchase a Prorider Dog Collar today on Amazon!
Conclusion – Best Beaded Dog Collars
When it comes to dressing up your pup, you don't have to search tirelessly for their ideal collar. Our guide has made finding the perfect beaded dog collar a breeze. Whether it's the intricate western style or Prorider Dog Collar that catches your eye, both offer unparalleled comfort and make sure your pet looks fabulous wherever they go!