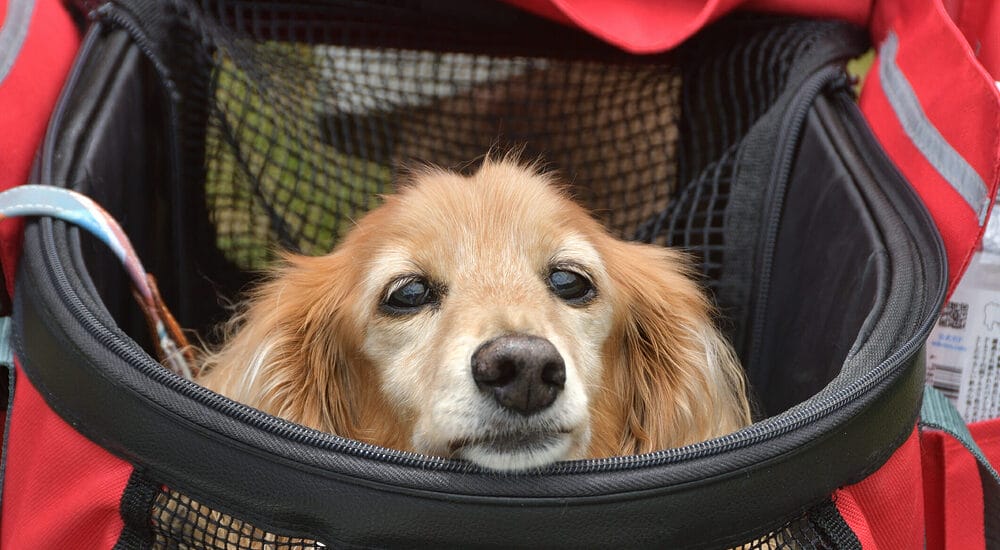 If you're a dog lover, then you know that there's nothing better than taking your furry friend for a walk. However, if your dog can't walk or needs help getting around, then using a wagon is the perfect solution! 
Wagons come in all shapes and sizes, so it can be tough to know which one is best for your dog. For this reason, we've put together this list of the 5 best wagons for dogs who can't walk! Keep reading to learn more.
5 Best Wagons For Dogs Who Can't Walk
Our list contains a variety of wagon types and brands, so you're sure to find one that's perfect for your needs. We considered things like size, weight capacity, durability, and more when making our selections. let's take a look at the best wagons for dogs who can't walk!
Mac Sports Heavy Duty Steel Frame
This wagon is great for dogs who can't walk because it is durable, has a strong steel frame construction, and can hold up to 150 pounds. It is also compact and collapsible, making it easy to store. The MAC Sports Folding Utility Wagon is a great choice for anyone looking for a wagon to transport their dog.
Additionally, the wagon provides extra versatility as it can also be used for carrying other items such as groceries, beach gear, and more.
The only downside of this wagon is that there is no entry point for your dog, which means you have to lift your dog in the wagon.
We still think this is one of the best options you can get for the price of $75.48. It's great value for your money and it's perfect if you're looking for something durable to use for a long time.
Dual Pet Jogging Stroller
This product is specifically designed for dogs. It is perfect for elderly pets that are unable to walk long distances, or injured pets that are recovering. The stroller has a large interior and can accommodate multiple animals at once. There are also zippered enclosures that allow the animal to enter and exit the stroller safely.
Additionally, the EVA vibration-absorbing wheels offer a comfortable ride for the animal. Finally, the independent rear locking foot brakes make it easy to keep the stroller in one place while you are not using it.
Overall, we highly recommend this product for anyone with a dog that cannot walk. It is well-designed and provides a safe and comfortable experience for both the pet and the pet owner.
VIVOSUN Heavy Duty Collapsible Wagon
If you have a dog that can't walk, this VIVOSUN Heavy Duty Collapsible Folding Wagon is the perfect solution for transporting them. The wagon has a big carrying capacity and is made of durable materials that won't tear. The handle is adjustable and the front wheels rotate, making it easy to maneuver over all types of terrain. Best of all, the wagon folds up quickly and can be stored in one hand, making it convenient to take with you wherever you go.
The main benefit of this wagon compared to others is that you can also use it for gardening or carrying other things. It is very versatile! The fabric is also easy to clean which is great if you have a messy dog. Overall, this wagon is an excellent choice for dogs who can't walk and their owners who want an easy way to transport them.
Vergo Dog Stroller Pet Jogger Wagon
Being the most expensive wagon on this list, the Vergo Dog Stroller Pet Jogger Wagon is also the best in quality. It's made with tough carbon steel and high density oxford fabric, has a large interior space for your pet to lay down comfortably, plus mesh windows for ventilation and a safety leash to keep them secure.
What makes this wagon special is the safety leash that allows you to secure your pet while they're inside. Additionally, the 360° swivel front wheels and large back wheels with a locking system makes it easy to take on different terrains, and the whole thing can be easily folded up and stored away. If you're looking for the best of the best when it comes to wagons for dogs who can't walk, this is the one you want.
Moon Lence Collapsible Utility Wagon
The Moon Lence wagon is perfect for dogs who can't walk because it is durable, easy to setup and store, and has a large capacity. The 360° rotating front wheels make it easy to move around, and the universal wheels make it suitable for use in multiple places.
The Max Load Capacity is 220 pounds, which is higher than all the other choices! Like the VIVOSUN Wagon, this one is also very versatile. Not only can you use it for your dog but also for carrying groceries or gardening tools.
The reason we think this is the best choice for dogs who can't walk is that it is affordable and has a high capacity. It also comes with a one-year warranty
The only downside to this wagon is that it doesn't have a built-in cover, so you'll need to buy one separately if you want to use it in the rain or sun. Overall, the Moon Lence wagon is an excellent choice for dogs who can't walk.
So, which dog wagon is best for you?
The best wagon for your dog depends on your needs. If you want the highest quality, go with the Vergo Dog Stroller Pet Jogger Wagon
If you're looking for an affordable option, the Mac Sports Heavy Duty Steel Frame is the best choice.
And finally, if you want a bang-for-buck wagon with the best capacity, the Moon Lence is the best option.
If your looking for wagons with a built-in cover then the Vergo Dog Stroller Pet Jogger Wagon and the Dual Pet Jogging Stroller are your best options.
No matter which wagon you choose, your dog will love finally being able to go on adventures with you!