You've known your doggie for being quite the star in your life. But out of the blue, you begin to notice that they are no longer as vibrant as they used to be. If not joint pain, then they are battling poor appetite, lethargy, or memory issues – and the list goes on and on. Poor soul!
Is this the beginning of the end? Well, as it turns out, a lack of certain minerals and vitamins might be to blame for your doggie's rapid deterioration. Fortunately, there's some good news and that is you can breathe new life into your aging pooch by investing in the best multivitamins for senior dogs.
Here's what every old doggie's parent needs to know about aging pet supplementation.
The Importance of Multivitamins for Aging Dogs
Although dogs naturally get most of their nutrients through the food you give them, there comes a time when they need a boost of nutrients. And that is precisely where dietary supplements come in handy.
Sure, your golden oldie may seem fine but if you want to keep them looking good and healthy for many moons to come, you've got to find supplements that fill their nutritional gaps.
Some of the key benefits of getting multivitamins for senior dogs include:
Just like humans, dogs need a healthy gut for efficient digestion. Unfortunately, bacteria imbalances are likely to occur with age and this could expose your pooch to all kinds of digestive health issues.
This is why it's important to get a senior dog supplement that comes with ingredients that safeguard the gut and by extension enhance your dog's overall well-being.
Aging dogs have unique needs and considerations, unlike their younger counterparts. Along with providing them with a healthy diet, introducing the right supplements may help improve their well-being as they age, including:
Improving Joint Health – By maintaining healthy connective tissues and cartilage.
Enhancing Brain Function – Certain supplements may help support brain cell development.
Minimizing Stiffness – Supplements with anti-inflammatory properties can help with this.
Has your doggie lost the spring in their step? They may benefit from supplements that are rich in vitamin C and omega-3 fatty acids. What's more, a product with high-quality protein can help support muscle growth. And as you know, an increase in muscle mass can lead to improved energy levels.
Better Looking Old Doggie
No one wants to be a pet parent to a dog with a dull coat and full of bald patches! Unfortunately, as they age, dogs are more susceptible to all kinds of problems (both internal and external) that could have them become a pale shadow of their former selves. 
Luckily, you can always achieve better dog skin health results by providing them with the right combination of vitamins and minerals.
–
We could go on and on, but we think our point has been made. To keep your senior dog healthy, it's important to get them the right nutrients at the right time.
Which Senior Dogs Need Multivitamins?
Not all senior dogs need nutritional supplements. In fact, if your furry friend is bubbly and in perfect shape, chances are he is getting all the nutrients he needs. But, if he seems to be struggling with a few things here and there, it might be a good idea to add supplements to their diet. 
You'll know that your dog needs supplements if:
You primarily feed him with homemade food. Unless you're a vet, chances are that you're not getting your dog's macros right with their homemade food options.
They are showing symptoms of joint pain or are nursing an injury. Certain supplements can help ease pain, fast-track recovery, and reduce stiffness.
You have started spotting bald patches and flaky skin among other coat health problems. The right nutrients can restore the fur to its former glory.
There are issues with your pet's digestive health. Some dietary supplements can help restore your dog's gut health.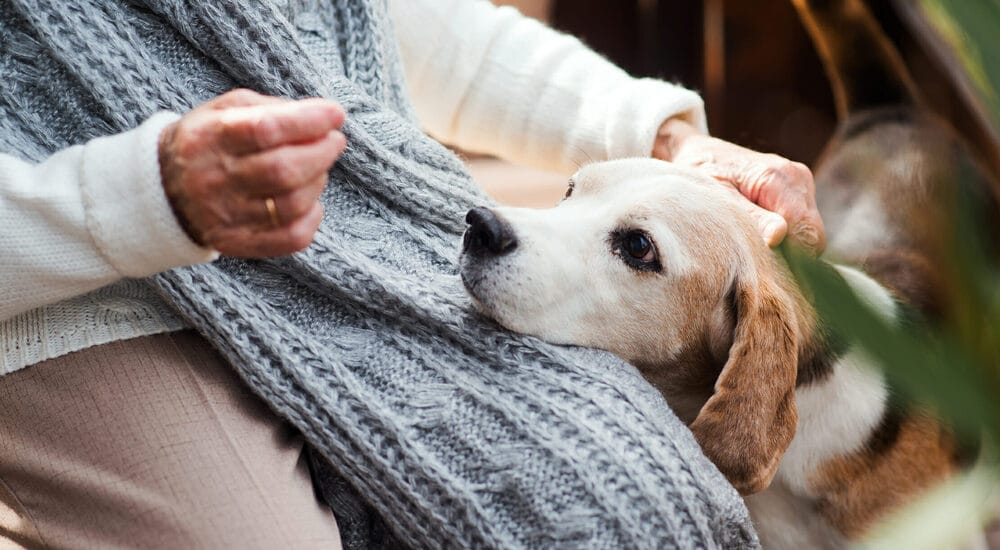 The Top 5 Best Multi-Vitamin Products for Senior Dogs
The following supplement brands are among the best products for senior dogs. As always, be sure to consult your trusted vet before making any major changes to your pet's dietary schedule.
Zesty Paws Senior Advanced Bites
Available in chicken and chicken-advanced flavors, the Zesty Paws Senior Advanced bites are packed with all the ingredients your pooch needs to age gracefully.
First off, it comes with lots of psyllium, an ingredient that's highly useful and improving digestion and improving bowel movement.
Other than that, each chew is packed with 200mg of glucosamine HCI, a natural ingredient known for its anti-inflammatory and pain-relieving benefits.
That's in addition to other essential vitamins among them Vitamin C, B3, E, and B1. The product also comes with Vitamins A, B2, and D.
Clearly, most of the ingredients in this senior dog supplement seem aimed at boosting the dog's musculoskeletal health by boosting bone health and reducing inflammation.
Vetriscience Senior Multivitamin
If you are looking for a high-quality but reasonably-priced supplement, this one from Vetriscience might be worth considering. It comes loaded with over 25 ingredients most of which are often missing from homemade food.
For instance, it contains Inositol, a rare but extremely important ingredient required for optimal blood sugar control and nervous function.
Are you concerned that your aging pooch's fur doesn't look as good as it used to? This supplement might be all you need as it contains all the essential ingredients needed for healthy fur development. We're talking about biotin, vitamin c, copper oxide, and zinc.
We were surprised to see that this formula has just as much vitamin c as the pricier YuMove tablets.
On the flip side, though, Canine+ from Vetriscience contains maltodextrin, a cheap sweetener that adds empty calories to your dog's diet.
PetHonesty Senior Multivitamin
Known for its high safety standards, Pet Honesty has been a force to reckon with in the pet health industry since it was established. The Texas-based company prides itself on its ability to provide good quality supplements from ingredients predominantly sourced within the country.
Its 10-in-1 multivitamin with glucosamine is one of the most sought-after for aging doggies – and it's easy to see why.
For starters, it contains optimal quantities of glucosamine, an ingredient that is extremely important in alleviating the pain and discomfort arising from dog arthritis.
Besides that, the product is packed with probiotics among them Lactobacillus acidophilus and Enterococcus faecium both of which are known to provide a long list of digestive health effects.
As a supplement loaded with crude protein and amino acids, this product has the potential to support muscle development and tissue repair.
And to top it all up, the supplement is available in a wide variety of flavors namely chicken, smoked duck, peanut butter, and smoked salmon.
YuMove Chewable Tablet Joint Supplement
Pin-pointed as the official joint supplement by the American Kennel Club (AKC), this particular product provides a variety of sensible ingredients for the overall well-being of your senior pet.
Each tablet of YuMove contains 500mg of Glucosamine HCl which is just enough for dogs weighing between 5 and 20 pounds.
We're talking chihuahuas, dachshunds, and terriers among other medium-sized dogs. Larger dogs would require more than one tablet of this, making the product quite expensive in that regard.
Besides glucosamine, this product comes packed with healthy doses of Vitamins C&E, Manganese, and Chondroitin (from Green Lipped Mussel).
By taking a quick look at those ingredients, you'll realize that this is a product specifically designed for health maintenance as age kicks in.
Other than having the backing of the AKC, this supplement bears the NASC seal meaning the company's facilities are regularly audited for quality and safety.
NaturVet 4-in-1 Soft Chews
Established in 1994, NaturVet has been around for close to three decades. If that doesn't scream reliability, we don't know what else does.
But aside from brand reputation matters, we have got a senior dog multivitamin to review. It's called the NaturVet 4-in-1 Multivitamin for Senior dogs and it comes with over 50 ingredients.
One thing we like about this particular product is that it's a rich source of glucosamine and chondroitin. These two are closely linked to improved joint health and faster recoveries from injuries.
What's more, the reasonably-priced supplement provides your doggie with probiotics and prebiotics which can go a long way in resolving any digestive health issues your pet might be grappling with.
We, however, dislike the fact that this otherwise well-made product contains maltodextrin and magnesium stearate. The former contains empty calories while the latter is the least absorbed form of magnesium available.
Conclusion – As young as a pup!
There is a wide variety of multivitamins you can give your aging dog for a healthier lifestyle. Taking all factors into consideration, Zesty Paws Senior Advanced Bites is our top choice. We feel that it's the one that strikes the right balance between quality and affordability.
If you're a frugal shopper, the Vetriscience Labs Canine+ Senior Multivitamin is a great cheaper product. It comes with a bunch of healthy ingredients although a few of them like maltodextrin are considered fillers.
Lastly, always remember that a healthy lifestyle for your pooch starts with a balanced diet. Adding the best multivitamins for senior dogs is a sure way to provide them with all the nutrients they need to enjoy a high quality of life well into their future.